Bed and Breakfast in Israel
Old City Stone Home For Couples and Families


Spacious Two Bedroom home with a Private Entrance and Balcony offering Old City Artistís Quarter and Mountain views. Ideal for one couple, families, group of friends, and singles. Itís perfectly located in the heart of ďArtists Quarter,Ē close to art galleries, cafes, restaurants, synagogues, Mikvahs, and wineries. Accommodation rates are for the entire apartment that includes Free WiFI Rates permit late check out 1 hour after Shabbat.
Full Details & Contact Information
Villa Tiferet


This lovely kosher vacation home is ideal for families and sleeps up to 13 in four bedrooms. Originally built 400 years ago, Villa Tiferet is a wonderful combination of history and modern luxury. Meticulously renovated, yet preserving the beauty of the original stone and high domed ceilings, Villa Tiferet offers a special and unique holiday experience. Feel at home in this historic villa nestled in the heart of the Artistsí Quarter of Tsfat.
Full Details & Contact Information
Beit Yosef Bed and Breakfast Safed


Welcome to Beit Yosef, The House of Josef. The distinctive Bed & Breakfast in Safed, Israel. You can choose from several beautifully furnished suites that have room for whole families as well as couples. Located in the picturesque Artists' Colony. Each suite includes all conveniences and striking interior design within renovated, ancient stone buildings among winding pathways. Come and enjoy breathtaking views and mesmerizing atmosphere of Safe
Full Details & Contact Information
EcoGuesthouse of Safed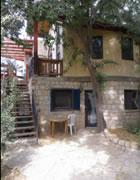 Come join us at our moderately-priced Safed b&b in the heart of Safed's Old City. Our guestroom is perfect for couples and small families or for a few friends who are travelling together. The EcoGreen guesthouse is clean, quiet and friendly. There's a shady private yard for relaxing under the grape vine and free parking nearby. We're located within a five-minute walk from the bus stop as well as all of Safed's religious, cultural and historic
Full Details & Contact Information
Boardwalk Guesthouse of Nahariya


This beautiful apartment is equipped for guests who wish to enjoy a home away from home. There is a cosy living room, with easy chairs, comfortable sofas and a library which includes art and touring books. The balcony and rooftop patio feature an expansive private area for dining, relaxing, sunbathing or simply enjoying the ocean view. Rooftop meals along with extra lounge chairs where guests can relax, sunbath, read, or just rest. A bar complete
Full Details & Contact Information
Yavne'el B&B


A Ski Lodge in Israel? We are 8 minutes from the Kinneret and 15 minutes from Tiberius. Lots of activities to do for families and nature lovers. Description Our entire 2nd floor is yours to enjoy. Suitable for the entire family. This Cedar Lodge was designed in the U.S.A. Materials shipped and assembled in Yavne'el, Israel. Views!!!! Nightly rate: $135 US (up to 5 guests) including breakfast. Each additional guest add $15 US per guest.
Full Details & Contact Information
Karaso B&B Zimmer Galilee Country Lodging


Establishment is located 15 mins from the Sea of Galilee. Offers 5 self-catering family apartments (up to 5 people in each - up to 28 people in total). Located in a rural surrounding within an ecological yard. Price : * 2 persons - 350 NIS (400 NIS in High seasons) * Additional person - 90 NIS . Rich country breakfast is optional. One apartments is suitable for the Disabled. Free internet access.
Full Details & Contact Information
Efrat Bed and Breakfast
A cozy Bed and Breakfast 20 minutes south of Jerusalem, a full floor on top of our home, two bedrooms, living room and bathroom and accomodates up to 6 people, confortably.
Full Details & Contact Information
Waldorf Astoria Jerusalem


Stay in contemporary elegance at the Waldorf Astoria Jerusalem hotel. Enjoy an exquisite position in the heart of the ancient city of Jerusalem, steps from the charming Old City.
Full Details & Contact Information
Hilton Tel Aviv


Set in Independence Park, this Tel Aviv hotel offers direct access to the Hilton Beach, an outdoor swimming pool, a spa and 17 meeting rooms.
Full Details & Contact Information