Bed and Breakfast accommodation in Central and South Am
B&B Jardín de los Monos


Our small B&B is located 2 min. walk from the stunning serene beach of Playa Matapalo. A great place to stay when you want to escape the crowds of Manuel Antonio. The B&B is surrounded by a tropical garden where monkeys & sloths are seen frequently; observe them from a hammock at your private patio or from the sunbeds next to the swimming pool. Just 5 rooms (3 with AC); all come with XL King bed, daily cleaning and our famous breakfast.
Full Details & Contact Information
Floresdel Sol Bed and Breakfast


Flores del sol is our family home, located in a beautiful residential area in the northern outskirts of Buenos Aires. Near the nature and near the city. The river is at walking distance, gardens and trees and beautiful piazzas all around. As we are architects, our house is unique in terms of style and cozyness. Classic music and flowers, books, tea or coffee, quietness and little amazing details to discover.
Full Details & Contact Information
Come enjoy all the excitement and charm that Leon has to offer!


Posada la Gordita is a traditional Bed and Breakfast house in the Colonial central district of Zaragoza Leon, Nicaragua. Posada la Gordita is a grand 6 bedroom home located near all the best places in Leon. It offers very clean and spacious private rooms with private and/or shared bathrooms and breakfast is included!! We offer nightly and weekly rates.
Full Details & Contact Information
Vanessa´s BnB


Affordable and nice BnB located in residential quite area near parks, cafes, restaurants, cinemas, grocery stores, malls, public transportation and more! We offer Airport pick up service for reservation of 1 week or more in our vacation rentals. For BnB we charge you $15 extra. You can rent a private room with bathroom or the whole apartment as a vacation rental. This property comes fully furnished with 2 bedrooms and 1 bath, dining and living r
Full Details & Contact Information
Art Bed and Breakfast Paraty.


We live in a small, colourful house in a quiet district in Paraty. We have a twin-bedded room with ensuite-bathroom which is provided with mosquito nets and ceiling fan. Come and enjoy the beautiful town of Paraty!
Full Details & Contact Information
Pequeno Paraiso your Panama Bed and Breakfast


Delicious breakfasts, great hospitality and worry free vacations in an upscale neighbourhood all at competitive prices.
Full Details & Contact Information
Quinta Tesoro de la Sierra Madre


Quinta Tesoro de la Sierra Madre, About 30 miles west-northwest of Cd. Victoria, Tamaulipas on the face of the Sierra Madre Oriental. Relax among some of the best bird & butterfly sighting areas imaginable. Good food, drinks, rustic atmosphere, comfortable accommodations, stunning geographic backdrop. This is your best place to find the Real Mexico in your own fully adobe, split-tile roof, flower-covered paradise, just a short drive from McAllen,
Full Details & Contact Information
Balamku Inn on the Beach


Come to Balamku, a new concept of resort in Costa Maya just south of Mahahual. Our beautiful palapas are designed for comfort and luxury in our intimate environment. Relax, snorkel, scuba dive, and kayak or visit the Mayan ruins. Enjoy the unspoiled beauty of nature here at Balamku.
Full Details & Contact Information
Casa Dos Lirios


Delicious breakfasts, comfortable rooms and a serene environment within walking distance of many of Merida's historical, cultural and culinary points of interest.
Full Details & Contact Information
Chez Les Rois Manaus


Chez Les Rois Bed and Breakfast is a great choice for accommodation when visiting Manaus
Full Details & Contact Information
Che Lagarto Hostel Mar del Plata
Ubicación: Estamos ubicados en la calle Alberti 1565 – Mar Del Plata, a dos cuadras de la Calle Güemes, a seis cuadras del Casino y a 400 mts del mar.¿Cuáles son las principales avenidas de alrededor y a cuantas cuadras se encuentra el Hostel de cada una de ellas? A tres cuadras de Av colon. ¿A que distancia esta de la playa en caso de que hubiera? 400 mts. ¿Cuál es el principal punto de referencia del destino y a que distancia esta el Hostel
Full Details & Contact Information
Accommodation Puerto Madryn


Hostel en Puerto Madryn Nuestro espíritu de anfitrión nació en Puerto Madryn hace algunos años. Más que nada por las ganas de compartir las bellezas que Península Valdés, con sus sorprendentes e impredecibles momentos nos regaló cuando vinimos a hacer turismo durante unas vacaciones. Este es el lugar donde podrás contar con toda la información actualizada a diario, para planear el viaje por la Comarca Península Valdés a tu medida. También es el
Full Details & Contact Information
Che Lagarto Florianópolis
Location: We are located at Avenida Prefeito Acácio Garibaldi S. Thiago n° 300 - Florianopolis; a very good location, between Joaquina Beach and Mole Beach; at just five minutes from Lagoa da Conceicao center, where you will find bars, cafes, supermarkets, restaurants, etc Che Lagarto Hostel Florianópolis offers private and shared rooms with private bathrooms and lockers.
Full Details & Contact Information
Huella Verde Rainforest Lodge, Amazon lodge in Ecuador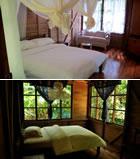 Huella Verde exclusive Rainforest Lodge, small jungle Hotel in the Amazon of Ecuador near Puyo, Banos, Tena. A hotel to relax and discover the rainforest of Canelos.
Full Details & Contact Information
The Grand House


The Grand House Hotel Bed and Breakfast, Valparaiso, Chile. The Grand House is totally unique. It is a huge home with antiques and curios surrounding the interior. The views from there over the Port of Valparaiso are magnificent. But nothing can compare to the hospitality of the two fraternal twin sisters who run the place. Doris and Carolina are just so wonderful! (from a review of a passenger)
Full Details & Contact Information
ByB Grecia
In ByB Grecia your comfort is our top priority. Therefore, we offer our clients the highest standards of cleanliness and the most delicious meals, so your trip can always be recalled as the best experience you have had!!!!!
Full Details & Contact Information
Cielito Sur B&B Inn


Enjoy country hospitality in our mountain homestead in Nueva Suiza, centrally located between the towns of Cerro Punta and Volcan in the Province of Chiriqui, Republic of Panama. First built in 1948 and expanded in 2000 to its current size, our bed & breakfast inn has been noted for its hospitality and outstanding service hosting guests from around the world. The family-run country estate is a natural bird sanctuary nestled in the rustic landscap
Full Details & Contact Information
Geko Paraty Hostel


Discover the hidden colonial Paradise of Paraty! Free breakfast and pick-up from the bus station - so you can really relax and enjoy! All of our rooms have en-suite bathrooms; we also offer female dorms as well as private rooms, with A/C, Fridge and Cable TV. We have a unique beachfront location, right in Town. Looking for a great place to unwind? Grab a hammock and come hang with other backpackers
Full Details & Contact Information
Cascadas Farallas Waterfall Villas


Waterfall Villas is next to the Cascadas Farallas Waterfalls. Three Bali Style Luxury Villas - each has 2 private suites. Separate entrances, private zen bathrooms, some suites with private Jacuzzi, AC, all have balconies towards the Waterfalls. Amazing attention to detail with natural stone, and artwork from Bali. Large covered open-air public relax areas. The lush rain forest grounds have many trails and there are 3 wooden decks at the falls.
Full Details & Contact Information
Bed and Breakfast


Susana Just Lodging gives you the possibility of living in a typically Argentine country-house close to the city surrounded by silence and open air. This area is absolutely peaceful and quiet not only to rest but also to enjoy and share good moments. It is isolated from the noisy capital city although it has easy and quick access form downtown.
Full Details & Contact Information